What is a BOOKTALK?
It's the most effective way to convince people to read for pleasure!
It is a dramatic introduction to a book, a teaser,
a come-on,
a commercial for a book that highlights the most exciting parts of it.
It's not a book report
or a book review, because it doesn't tell everything
about the book
or evaluate it.
It's a glimpse into a scene, a character or two, or a plot line that reveals just enough to convince the listener to pick
up the book and
give it a try.

Librarians and teachers use booktalks to convince audiences of all ages that reading is fun,
and that books can open up new worlds, new ideas, and new opportunities!

A great booktalker can convince
anyone to read!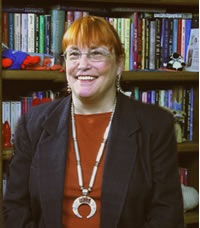 JONI RICHARDS BODART has written more books about booktalking and taught more people how to excel at it than anyone else. Having authored 19 books, as well as having done hundreds of booktalking lectures and workshops, Joni's books are enjoyed by a worldwide audience of readers.
---

1PLs Co (www.1Payday.Loans)



JONI'S BOOKS & WORKSHOPS

CAN HELP YOU DO ALL THESE THINGS--

AND MORE!

---

Here are just a few things
Joni's readers, reviewers, students and audiences
have to say about her...

"Bodart, who has motivated thousands of children, teenagers, and adults to discover the pleasures of reading…provides practical instructions and advice on presenting entertaining, persuasive Booktalks and developing a personal booktalking style." James A Cox, The Midwest Book Review. (Booktalk!4 Selections from The Booktalker for all Ages and Audiences.)

Joni.
I just had to tell you how fabulous your new book, "Radical Reads" is. I just received it in the mail today and I am already set with a brand new slew of books to introduce tomorrow at school. I am especially excited about the info for "Give a Boy a Gun." I nominated that book for a reading list in Minnesota and have
caught some flack about it.
I think I have defended the book pretty well,
but your section on it gave me even
more ideas to consider.
Thank you for this wonderful resource,
Tori
Tori Jensen, John Glenn Middle School
Minnesota Youth Reading Awards
Click here to
follow a few posts in response to Tori's


"Knows what she's talking about…wonderful professor who engages her students and encourages us to express our thoughts and views."
Student course evaluations, Division of Library and Information Science, College of Education, University of Denver.

"It was great! Enjoyable day! Are there grants (to get her back again)?"
The (booktalking) demonstration was...so effective that I am going shopping this afternoon!"
All day booktalking workshop, Gallup-McKinley County Schools